Albufeira During Sunrise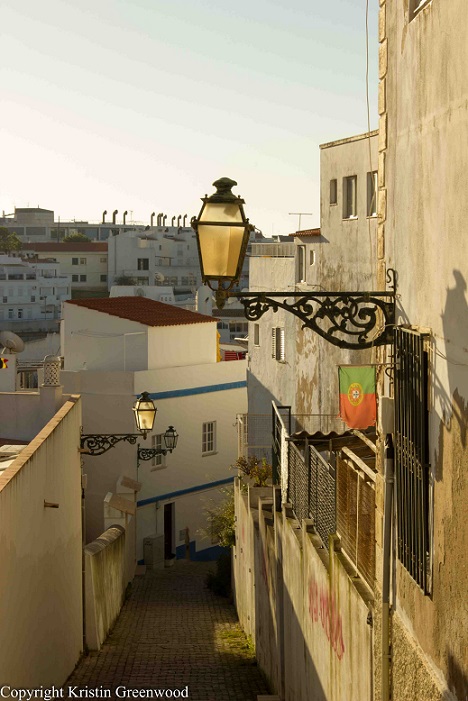 The start of our day in Albufeira was very early at around 5.30am. We wanted to go to the old town of Albufeira and take some pictures during sunrise. 
Just after we had left our hotel at Oura Beach, we walked across a big parking lot. On our left we saw the full moon shining bright and strong and then suddenly out of nowhere we saw a couple of dogs heading towards us. It seemed like an episode out of some horror movie.  Luckily the dogs were harmless. Apart from some cars and a drunken guy coming from a club, there was no one else on the streets. The street lights were only provided for the main tourist areas so in between there was a part when there were no street lights at all. Our episode from a scary movie seemed to continue when we saw another dog approaching us out of the dark. The dog was a friendly dog and he actually walked with us until we were almost at the beginning of the old town. He was actually harmless and very cute. We called him Jack, our guard dog through the dark.
Our timing was perfect. The sun was just starting to rise after 6.00am and we took some beautiful shots from the viewpoint looking at the old town just before the escalators. There were certainly some strange characters around so you probably would not want to go there by yourself at that time of the day. After some time taking pictures and enjoying the view, we decided to go for a little walk around the old town of Albufeira. As Kristin stepped onto the escalator it suddenly started working. The escalators started to work at 7.00am. It seemed pretty cool to have them starting for us. After a little wander around, we enjoyed a coffee and some sweets at a café which was located at the square inside the old town. Coffee in Portugal is really cheap and so good. A perfect snack before we headed back to the hotel.
Click here – Portugal Official Tourism Website
– Click on the picture to see the entire picture-