Article: 15 Free Things To Do On Kauai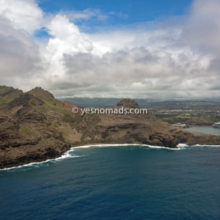 We loved our visit to Oahu island of Hawaii some years ago and so we were really looking forward to seeing another Hawaiian island. This time around we headed to Kauai island which is also known as the Garden Island due to its abundant greenery.
Kauai is substantially smaller than Oahu island. It is more of a family and relaxed type of vacation spot. Most establishments close before 10pm on Kauai island.
You can really recharge there and get in touch with nature. The best part was that you don't have to constantly worry about where you park your car. If you have read our article about Oahu (if not click here), you will know what we mean by that. Kauai island is simply too small to give people the opportunity to steal from cars. It might still happen but much less than on Oahu.
We stayed at a serviced apartment in Poipu which was in the southern part of Kauai. You can see our video review here.
The apartment was good, near the beach and not far to drive to various locations.
A vacation to Hawaii is quite expensive, especially if you start eating out.
We really prefer self catering when we are in pricey places like Hawaii. When we visited Oahu island we basically mostly used the microwave in our hotel room. Having said all that, shopping on both Hawaiian islands is substantially more expensive than on the US mainland.
Kauai offers a variety of activities. 
Here are 15 Free Points of Interest on Kauai Island:
1. Visit to Waimea Canyon and Koke'e State Park
On the northwestern part of Kauai you can visit the scenic Waimea Canyon and Koke'e State Park. Link to our video featuring the Waimea Canyon and Koke'e State Park.
We have been to many parts of the US, probably more than most US nationals have been.
Now we don't want to brag here but we really enjoyed returning to the US every year since we got married there in 2007. In the same year we have been to the Grand Canyon and in the following years we have seen other canyons in Utah, Arizona and Colorado.
Waimea Canyon really is a mini version of the Grand Canyon. The Canyon and adjacent Koke'e State Park are fantastic places to see.
You can reach the canyon and Koke'e State Park by driving along the Waimea Canyon Drive (Hwy 550) just north of the town of Waimea.
Along the road you will find several lookouts of Waimea Canyon and thereafter the road merges with the Kokee Road (Hwy 55) which leads into the Koke'e State Park. Both roads are winding.
The most important thing to know about the visit is to get there early in the morning. You should drive all the way up until until the end of Koke'e Road when you will reach the Pu'u O Kila Lookout.
The reason for that being, the later it gets in the morning the more clouds come into the mountains and your view of the Kalalau Valley from the top may get spoiled. Another reason is that not only the clouds come into the National park but also the crowds of tourists.
The view from up there of the Kalalau Valley is an unforgettable sight.
From the Pu'u O Kila Lookout you can also hike a ridge down to see different views and you can hike the Pihea Trail.
This Pihea Trail hike is really tough and you need to wear some good shoes or welly boots and you better leave all good gear at your hotel. We really tried to walk along it but it was just way too muddy to continue further for us.
On your way down you can stop at a variety of lookouts. The first one along the way is the Kalalau Lookout.
There are also a variety of other hikes you can do within the Koke'e State Park and Waimea Canyon.
We sometimes simply parked where it it was ok to park on the side of the road and explored the nearby area.
Some of the best views of Waimea Canyon are across the street from the Pu'U Ka Pele Picnic Area and along the Waimea Canyon Lookout.
2. Hanapepe Valley Lookout
The Hanapepe Valley Lookout gives you great views of the area. We discovered it when we were driving form the South Shore to Waimea Canyon.
Location: It is located on route 50 just after mile marker 14.
3. Spouting Horn Park
The Spouting Horn is a natural wonder and it allows you to see how the sea water is being blown into the air through a lava tube.
Near the Spouting Horn viewpoint is a parking area and a mini outdoor market where you can also purchase souvenirs.
Location: Spouting Horn Park, Lawai Rd, Koloa, HI 96756, USA
4.
Poipu Beach
Another point of interest along the south shore is Poipu Beach. Poipu Beach is located close to hotels and there are excellent facilities. It is a great beach for swimming and snorkeling.
Location: Poipu Beach Park, Koloa, HI 96756, USA
5. Shipwreck Beach
Not far from Poipu Beach, you can find Shipwreck Beach.
This is a lovely beach. The sea can be a bit rough at times and so you want to be careful there. It is a great spot for a picnic and to watch the sunset. There were also some wedding ceremonies being held there. The parking lot at Shipwreck Beach is quite small and so we parked just off Ainako St.
Location of Shipwreck Beach: Shipwreck's Beach, Koloa, HI 96756, USA
6. Hike Maha'ulepu Heritage Trail
From Shipwreck beach you can also start a wonderful hike. It is the Maha'ulepu Heritage Trail.
From the parking lot at Shipwreck Beach you just have walk along the the left side of the beach towards the cliff and you'll eventually see the trail into the cliff. It is a fairly easy hike although you might get very hot during it. You really need water, sunscreen and also good shoes during this hike. There are a few sharp lava rocks on the path. Along the way you will walk past a golf course and a sacred Heiau stone structure.
You will eventually get past a horse stables and soon after that there is a great secluded beach. Overall we hiked for about 2 hours. It is definitely worth doing and you can enjoy some wonderful views along the way.
7. Lookout of Menehune Fishpond "
Alekoko"
Heading to the East Shore of Kauai, there are also a variety of other wonderful places to see. The next one is the Lookout of the Menehune Fishpond.
This is a legendary ancient Hawaiian fishpond. According to legend, the mystical Menehune people built this fishpond in one night. It is not far from Lihue airport.
Location: To get to the overlook, you have to drive up Hulemalu Rd for about half a mile.
8. Kalapaki Beach.
Within a short drive from the Menehune Fishpond, you can reach Kalapaki Beach in Lihue.
It is a wide sandy beach and it is great for swimming and rafting. At times the surf can be very rough there.
Location: Kalapaki Beach, Lihue, HI 96766, USA
9. Wailua Falls
Another highlight on the East Shore of Kauai is the viewpoint of the Wailua Falls.
The Wailua Falls  were used as a filming location on the TV show Fantasy Island. It is a beautiful waterfall.
Unfortunately, you cannot hike down to the falls as they are closed off via a fence but it is still worth seeing the viewpoint.
Location: To reach the lookout you just have to head north form Lihue and follow Maalo Road.
10. Lydgate State Park
One of the best beaches on the East shore of Kauai is located within the Lydegate State State Park.  It is perfect for families as there is a big lava rock-rimmed pool for swimming and there is a small pool which is perfect for toddlers. The state park also has numerous picnic tables and a playground. It is great for long walks along the beach and to admire the sunrise and sunset.
Location: The state park is located along highway 56 in Wailua. 
11. 'Opaeka'a Falls.
The next point of interest is the viewpoint of Opeika falls 'Opaeka'a Falls.
Opeika "Opaekaa" translates to "rolling shrimp," which were once abundant in the stream. There is a parking area near the falls with a public restroom.
Location: The lookout is located on the east side about 2 miles along Kuamoo Road.
12. Wailua River Valley Lookout
From the Opaeka'a Falls viewpoint you can also walk uphill to the nearby Wailua River Valley lookout (less than 3 minute walk!).
13. Hanalei Bay Beach
Heading to the North Shore, you can visit the Hanalei Bay Beach. The Hanalei Bay is great for swimming, running and walking. The sunset at the Hanalei Pier is very nice although we actually took a lovely photo at sunrise there.
Location: It is located off Weke Road. Weke Rd, Hanalei, HI 96714, USA
14. Ke'e Beach
Another highlight along the North shore of Kauai is Ke'e Beach.  It i is ideal for sunbathing and it is good for snorkeling in the summer months.
Important for parking! Get there early in the day. We were there early in the morning and it was still ok, however, when we returned from our hike along the Kalalau Trail, the parking lot was very busy.
Location: Ke'e Beach, Hawaii 96746, USA
15. Hike Kalalau Trail
The hike along the Kalalau Trail starts right from Ke'e Beach.
Experienced hikes can hike all the way to Hanakapi'ai Beach. You can also hike further to the Hanakapi'ai Falls.
We hiked until the Hanakapiai Beach and it was a really tough hike. You really need good shoes with you, water and sunscreen. In total we hiked for about 4 hours. The hike is very scenic.
If you are not such an experienced hiker then you can also just walk a bit uphill from Ke'e Beach and you will soon be rewarded with great views of the area. The first good viewpoint was after about 20 minutes.