Article: 3 Day Southern Welsh Adv – Part 3 Visit Castell Coch & Wiggleys Fun Farm & Coney Beach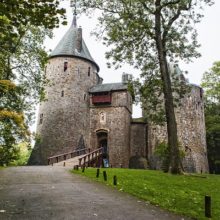 Part 3 Visit Castell Coch and Wiggleys Fun Farm and Coney Beach
This is our report on the final day of our 3 day Welsh adventure. You can read the other parts here.
Castell Coch
The third day in Wales started out quite foggy and as we weren't sure how the weather would develop, we drove to Castell Coch.
Castell Coch is set within thick woods and the fog that surrounded it on the day gave it a mystical aura. It could have easily been in a Harry Potter movie.
The Castle was built in the 19th century on the foundation of a much older Castle.  It is very well maintained and we especially admired the intricate works of art which were crafted into the ceiling of the main rooms. Visitors can get an audio guide and find their way through the Castle. The audio guide was really good and took you back in time.
Unfortunately for our companions, it was once again only available in English and Welsh language.
Castell Coch is a decent location for a rainy day.
As the weather had brightened up by the time we finished exploring the Castell, we headed to Wiggleys Fun Farm.
Wiggleys Fun Farm
This is mainly an attraction for children but adults that have kept their inner child are also welcome to visit. My father grew up on a farm and I remember fondly visiting my grandparents' farm during the summer holidays. The Fun Farm took us a little bit back there and he really enjoyed it.
Amongst others, they have very hungry pigs, naughty goats and some adorable ponies.
Visitors can also purchase special animal food to feed them. We purchased three bags and fed the animals which was quite fun. Thinking about it, fun is really the only sane explanation for paying to feed someone else's animals. This is quite a smart thing to do for farms and zoos.
Aside from the animals, there is a kids playground (indoor and outdoor) and you can do short and easily accessible woodlands walk.
Another great fact about the farm visit is, that it was the first place we've been to where adults pay substantially less entrance than the children.
From fresh farm air we headed towards the ocean to get some fresh sea air at Coney Beach in Porthcawl.
Coney Beach in Porthcawl
This beach also had a fun fair which, according to Wikipedia, seems to have had numerous fatal incidents since 1994.
Fortunately, we weren't there for the fun fair and just to suck in the warm sun and ocean air.
Near the beach were also some strange rock formations which made it seem a little bit like another planet.
It is a great place to go for a walk and the perfect ending for the 3 Day Welsh Adventure.
Details of the visit of Castell Coch
Opening hours
1 Mar – 30 Jun: Daily 9.30am – 5.00pm*
1 Jul – 31 Aug: Daily 9.30am – 6.00pm*
1 Sep – 31 Oct: Daily 9.30am – 5.00pm*
1 Nov – 1 Jan: Mon to Sat 10.00am – 4.00pm and Sun 11.00am – 4.00pm*
Closed 24th, 25th, 26th of Dec and 1st of Jan
*Last entry 30 minutes prior to closure.
Entry fees
Adult: GBP 6.00
Family: 16.20 (2 adults and up to 3 children)
Children under 16, Students and Seniors GBP 4.20
Children under 5: Free
Disabled and companion: Free
Website of Castell Coch
Details of the visit of Wiggleys Fun Farm
Opening hours
Mon – Fri (during school term) 10.00am – 6.00pm
Sat – Sun 10.00am – 5.00pm
School Holidays 10.00am to 5pm
Xmas Eve, New Year's Eve and Day: 10.00am – 4pm
Open 363 days/year except for Xmas day and Boxing day
Entry fee
Children over 90cm: GBP 5.95
Children under 90cm: 3.95
Babies in arms Free
Adults: GBP 1.00
Adults (with one paying child): Free