Article: Exploring the best street art in Montreal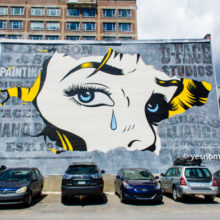 Montreal in Canada is a vibrant and creative city. You can find street art around many corners of the city.
Some of the best murals can be found along Boulevard Saint-Laurent. The Boulevard is a very long street. It is about 11km long and offers visitors of the city of Montreal a lot to see.
Apart from street art you can find almost anything along this road. There are a variety of gastronomic choices available and you can buy everything from furniture to high and low end clothing. If you are visiting Montreal then this is one street to see.
Here you can see a collection of photos taken along Boulevard Saint-Laurent.
Our favourite mural was the following work. It had a realistic 3D effect to it. You can find it and some other ones at a parking lot along Boulevard Saint-Laurent between Rue Sherbrooke and Rue Prince Arthur.
If you are lucky then you might even get to see real art being performed along this street. We saw this scene being filmed at Parc du Portugal. As you can see two men were being filmed. They were only (almost only 🙂 ) dressed in hospital gowns. It was a very strange and humorous scene in the middle of the city.