Article: Places To Eat in Siem Reap Cambodia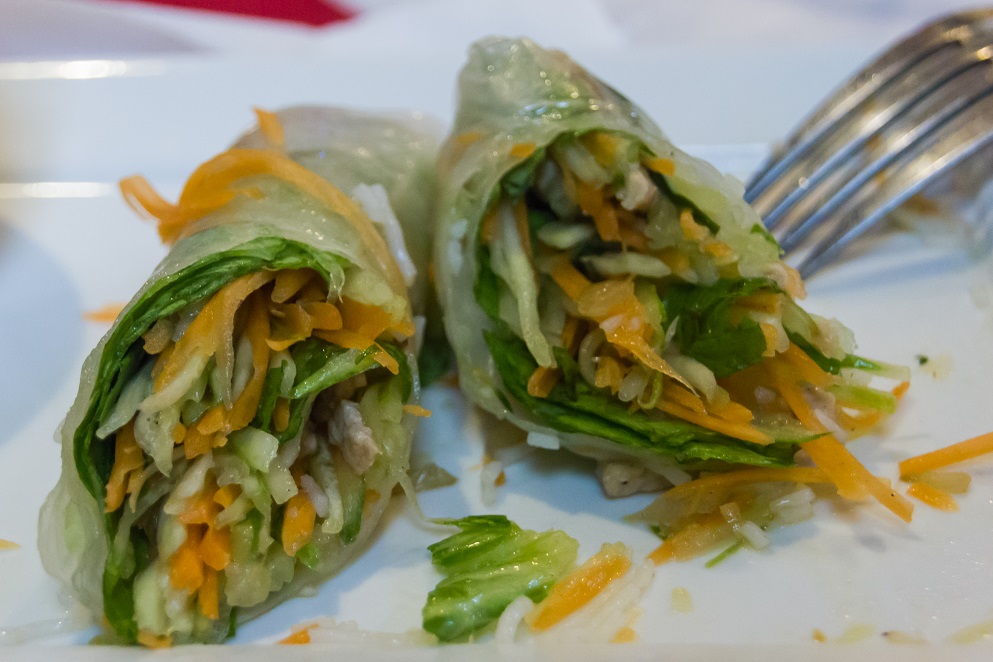 Siem Reap is very colourful. The streets are filled with tuk-tuks, plenty of friendly people and, in the dry season, dust. Our senses were wide awake the moment we stepped into the streets as we were assailed with new sights, sounds and smells in a way we had not experienced since Marrakech. At first sight you really wonder whether your stomach will survive this. To our surprise, our stomachs survived it and, on occasion, relished being in Cambodia. In some cases we ate very well.
During our one month stay we ate out almost every night. It was simply cheaper than eating in the hotel and as we went to certain places regularly, we feel comfortable to review them.
We often don't do this as restaurants can be very patchy. So here are some of the restaurants. All were exceptionally cheap to Western wallets and fairly averagely priced by Siem Reap standards. As you can see below we also include some of the receipts and business cards. We paid for all meals and the restaurants had no idea we would be reviewing them.
*The total on the bills is expressed in USD and we visited 2014.
Le Pain du Coeur Restaurant – Local, French and International Cuisine
A small romantic restaurant tucked away from the main roads.  The menu is extensive featuring not only Asian but also Western dishes for breakfast, lunch and dinner (not sure how they can handle offering such a variety of dishes). The owner was trained as a chef in France.
Their local dishes, French bread and cocktails were really good.  The fresh spring rolls are delicious.
Address: 176, Taphul Street, Phum Taphul, Sangkat Svay Dangkum, Siem Reap (near the Ta Phol Guest House & Kitchen  which is a big red coloured building).
Dakshin's Restaurant in Siem Reap – Indian Restaurant
The restaurant is very modern. It is a bit more expensive than other eateries but the food was excellent. They also do take-away meals but we cannot recommend this as they don't have the usual take-away containers.  It can be very busy so if you want to eat there you might better reserve a table.
Location: Opposite Siem Reap Referral Hospital, Siem Reap, Cambodia
Curry Walla Restaurant – Indian
& Khmer Chef – Local Cuisine
We ate at Curry Walla several times. The food wasn't quite as good as Dakshin`s, but overall the staff was very well trained and it felt reliable, comfortable and always had an interesting mix of diners. The best thing about this restaurant was that you could also order local dishes from the Khmer Chef restaurant next door or sit in the Khmer Chef restaurant and order the dishes from Curry Walla. It was great to see these two establishments working together.
Address: B05, Sivatha Rd, Siem Reap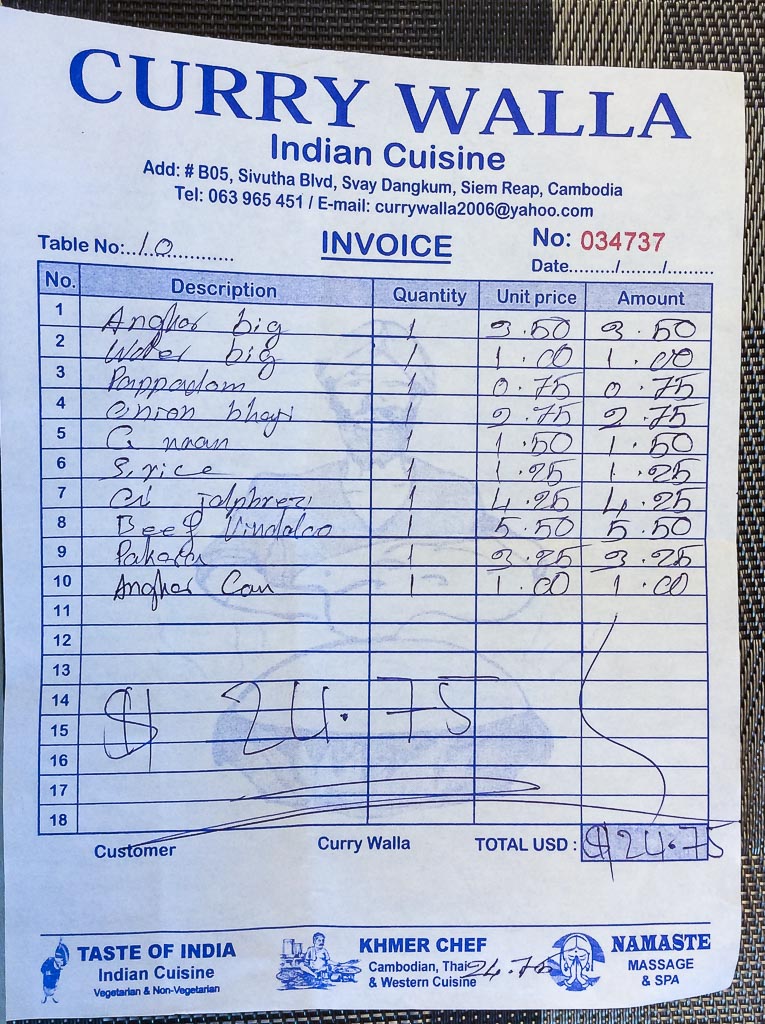 Amok Restaurant – Local cuisine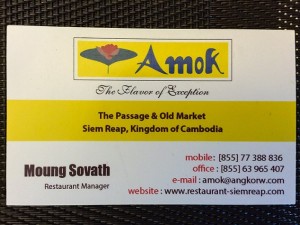 We only ate there once. The restaurant is very modern looking and the food was very good. The downside was that it was a bit pricier than other restaurants.
Location: Between the passage and Old Market, Street 9, Siem Reap, Cambodia
The Peace Café – Local and International Cuisine
The Cafe is a great place to escape the busy streets and you can sit in the beautiful garden away from it all. It is located on the other side of the river. You can get a variety tasty dishes there and different types of coffee (Cappuccino, Espresso etc.). There is a small library that lets you get lost in a good story or plan your next adventure through a variety of travel guides.
They also offer cooking and yoga classes.
Note: The Peace Café recently moved and here is the new location/address:
Address: East River Road, Siem Reap, Cambodia. From Amanzara Resort, cross the old steel bridge and turn left, follow the river about 700 meters and you will Pace Cafe Angkor Sign on the right hand site.
The Red Piano Restaurant – Local and Western dishes
This bar/restaurant is located on the corner of Pub Street. Apparently Angelina Jolie visited during the filming of Tomb Raider. They even have a special Tomb Raider Cocktail. Every 10th such cocktail that is sold is free and every 500th sold, wins the guest the cocktail, a t-shirt and USD 100 in cash. Paul got one for free. The food was ok but average. The best thing about it is the old colonial ambiance and that you can watch people passing by.
Location: Right on the corner of Pub Street…you simply cannot miss it.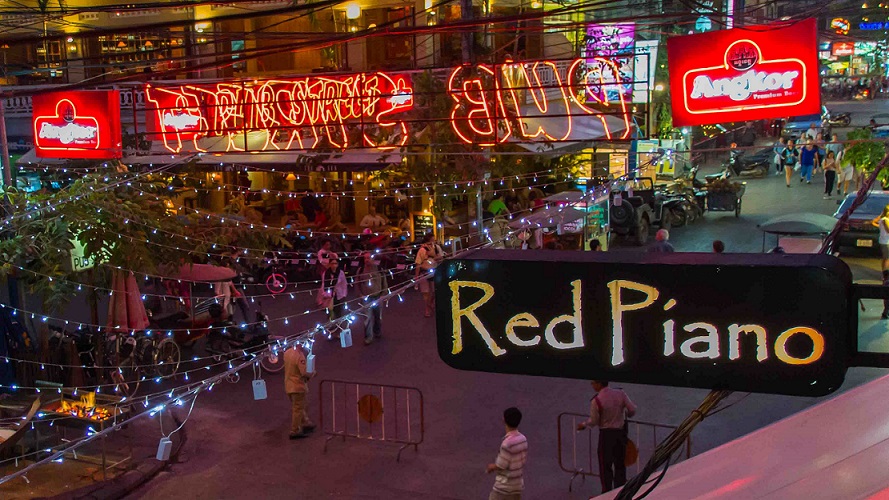 Cambodian Barbeque – Local
You should try the special Khmer Barbecue (Cambodian BBQ). There are a few eateries along Pub Street which offer it. You will get a small gas stove to cook your choices of meat, rice, noodles and vegetables. They have chicken, beef and even snake and crocodile to eat. Paul did not find the crocodile as good as before but that may be down to his cooking technique! This reminded us a little bit of a fondue in Switzerland…just a bit more colourful.
Angkor Palm Bar and Restaurant – Local Cuisine
This restaurant prides and advertises itself as being recommended by Lonely Planet. We ate there twice. The first time it was very good. We tried the beef loc lac and the Angkor platter consisting of fresh spring rolls, salad, local spare ribs, fish amok and some other items. The Angkor Platter was a good sized portion and it tasted very good.
Unfortunately, our second visit wasn't so good. It was very busy and the food/service was below average.
Location: Phasar Chas Area (Old Market), Pithnou St. Siem Reap
The Butterflies Garden – Local and International Cuisine (also on the other side of the river)
We only had a few drinks there but must point out that the ambiance of the restaurant is very nice (although we didn't see many butterflies there).
If you want to see a traditional dance performance, then this is one place for it. They show a 45 minute traditional dance and music performance every Tuesday evening starting at 7:30pm.
Address: Street 25, Siem Reap. It is located on the East Side of the River. If you cross the bridge from the Wat Prom Rath Buddhist Monastery, just continue straight and you should soon see it.
Tip for alcoholic beverages in Siem Reap
Watch out because some of the mixed drinks like cocktails can be very strong.