Article: This isn't in the guidebook. What is it?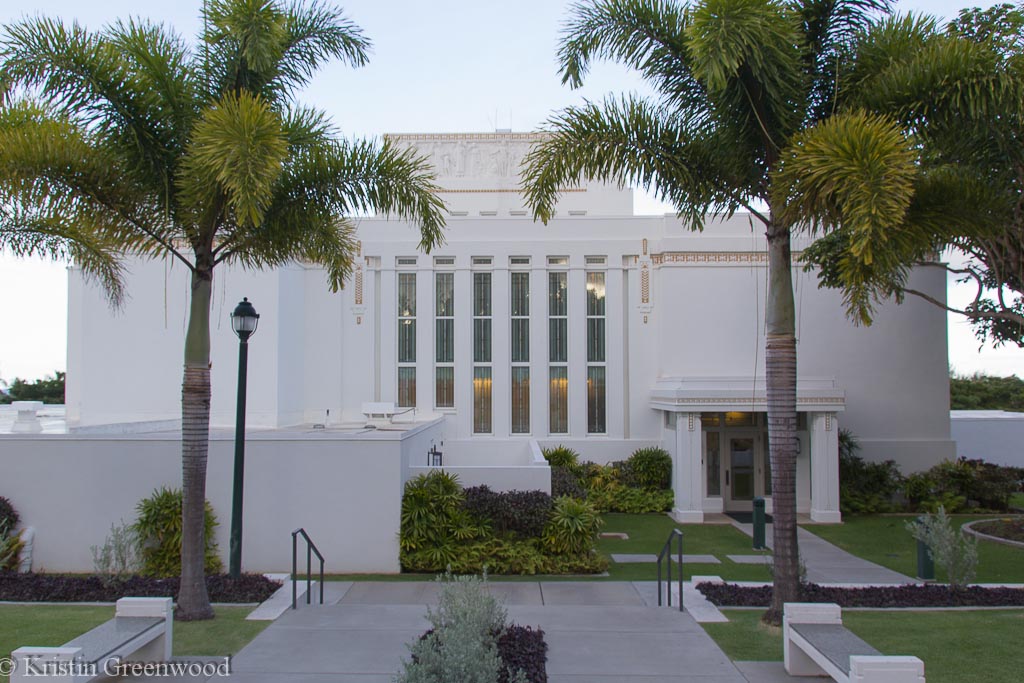 Our unusual discovery on Oahu Island in Hawaii…
On our drive to La'ie Point in Oahu we suddenly stumbled upon a beautiful white palace. You could easily see it from far away.
We had to find out what it was and parked our car at the visitor center which was a separate building adjacent to the palace grounds. A sign outside the building just said "La'ie Hawaii Temple Visitors'Center" and so we remained clueless.
As we entered the building, we saw a Chinese tourist group and right away two American girls approached us. They wore dresses with the typical Hawaiian flower pattern and they had big smiles on their faces.
We wondered whether there might be some special Hawaiian performance?
The girls welcomed us to their church called Church of Jesus Christ of Latter-day Saints. I just though latter da what?  That is the reason why it wasn't in the guidebook!
It turned out the white Palace is a Mormon Church Temple. It was the first Mormon temple built in Hawaii.
The girls passionately explained to us the principles of their church and showed us images on how the temple looks like inside because only Mormons can enter it.
The rooms looked more like the ones in a normal house rather than a large prayer hall like we have seen around the world in other religious sites. This homely set up is done intentionally and honestly it seemed much more inviting.
The Mormon Church believes that we are all brothers and sisters of god "Heavenly Father" and in the eyes of god we are all the same. The most interesting room was the sealing room that is where Mormons get married in. There were mirrors in the room where the couple would see themselves endlessly signifying eternity.
Although we did not get to visit the temple, it was still interesting to learn about another religion.
The general principles are the same as in any religion. To see two young girls with such a positive and grounded soul, one that you would normally expect from much older people, was very inspiring.
Whilst we were not "converted" we respected their friendliness and hospitality.
Address of the La'ie Hawaii Temple: 55-600 Naniloa Loop, Laie, HI 96762, Hawaii
Tip: Non-Mormons are allowed to see the open grounds around the temple. The Temple looks very attractive during sunset.