Article: Visit of Evora in Portugal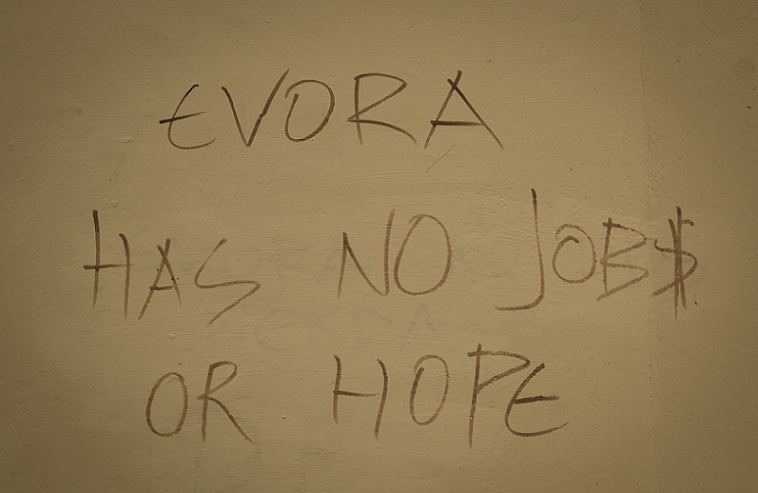 Article: Visit Evora – is this graffiti statement really true…
By Kristin
I discovered this sad graffiti on a wall in Évora.  It was probably placed there by one of many unemployed kids there.
The economic situation in Portugal is not good and we have also felt this sadness in other places.
The fact is, there aren't many jobs in Évora or Portugal for that matter. In our dreams, our beloved Portugal sets itself free of the Euro mess and makes itself attractive for international businesses to settle down. Unfortunately, these are just our dreams.
So the question remains, is there still hope for Évora?
Tourism presents great opportunities for this beautiful city in the Alentejo Region. It might not be located right at the ocean but it is filled with history and unique sights.   You can reach it from Lisbon within a 1 to 2 hour car journey and from Faro within 3 hours (this also depends on whether you would like to take the pricey toll roads).
If I would be an action or fairy tale movie director then I would immediately shoot a movie scene on the rooftop of the Cathedral.
When you stand up there you can see miles away on a clear day. The towers look as if they belong to a fairy tale castle and not of a place of worship.
This magical appearance is even shown by some students who were walking through the streets. They were wearing overcoats which reminded us of the ones magicians would wear.
The most visited sight in Évora is the Chapel of Bones (in Portuguese: Capela dos Ossos). Its walls are covered with thousands of human bones. These bones seem more like a giant art work celebrating the afterlife rather than a scary sight.
– Click on the individual image to see a larger version –
Whether it's nighttime or daytime, you can always sit in the Garden of Diana and admire the flower beds and the Roman Temple of Évora (in Portuguese: Templo romano de Évora), which is also known as the Diana Temple, named after the goddess Diana.
– Click on the individual image to see a larger version –
You can walk right beside the giant aqueduct from the town down into the countryside. Along the way, there are many houses built right within the aqueduct.
There is history to uncover behind every street corner in Évora. The city's beauty was not lost on royalty who maintained a residence here.  With regard to tourism there is still plenty of opportunity.
During all our trips to Portugal in 2013 and the years before, there have only been a few high end restaurants that impressed us with their service and food. The middle and lower end of the restaurant industry in Portugal leave a lot to work on. We are not the only ones with this opinion. The Portuguese have all these tasty raw materials at their doorstep they just have to utilize them. So I say to whoever wrote this graffiti statement, lift yourself up, get some good recipes and create tasty snacks with the gifts of Portugal.
Where to stay in Évora?
Pousada Dos Loios de Evora
This historic five star hotel is set within the walls of the former Monastery of Loios. It is next to the Roman Temple and just a minute away from the Cathedral.
Follow this link to book a room at the Pousada Dos Loios Hotel
Ibis Evora
This is a low budget hotel located outside of the centre of town near the town wall. You can reach the Roman Temple and the Cathedral within a 15minute uphill walk. The rooms were basic, but when we stayed there, the friendly staff and the price made up for it.
Click here for booking a room at the Ibis Hotel
Details of the sights
Fortunately many sights, like the Roman Temple, the University or the Aqueduct, are freely accessible in Évora. Additionally, the entrance fees to the paid sights are not too high.
Here are the details of the Cathedral
Entrance fees (approx. exchange rates end of Jan 2014):
Cathedral, Cloister and Towers: EUR 3.50 (USD 4.75, GBP 2.80, CNY 29.00)
Cathedral and Cloister: EUR 2.50 (USD 3.40, GBP 2.00, CNY 20.00)
Only Cathedral: EUR 1.50 (USD 2.00, GBP 1.20, CNY 12.46)
Museum, Cathedral, Cloister and Towers: EUR 4.50 (USD 6.10, GBP 3.70, CNY 37.38)
Museum (including Cathedral): EUR 4.00 (USD 5.40, GBP 3.29, CNY 33.20)
Opening hours:
Summer (1st Jul to  15 Sep) 9am to 5pm
Winter (16th Sep to 30 Jun) 9am to 12.30pm / 2pm to 5pm
The Cathedral is closed in the afternoon of the 24th of Dec and fully closed on the 25th of Dec and 1st of Jan. The last admission of the Cathedral is 30minutes prior to time of closure.
The museum is closed on Mondays and the last entrance to the museum is 1hour before closure.
Details of the Bones Chapel (Capela dos Ossos)
Entrance fees:
Adults: EUR 2.00 (USD 2.70, GBP 1.64, CNY 16.61)
Students (12-25 years) and seniors (over 65): EUR 1.50 (USD 2.00, GBP 1.20, CNY 12.46)
Fee for photo and video: EUR 1.00 (USD 1.36, GBP 0.82, CNY 8.30)
Opening hours:
Summer:  Mon to Sun* 9am to 12.50pm and 2.30pm to 5.45pm
Winter: Mon to Sun* 9am to 12:50pm and 2.30 to 5.15
On Sundays the chapel opens at 10am instead of 9am.
Last entrance is 5 minutes before closure.