Our Visit To Knoxville The City With The Small Town Charm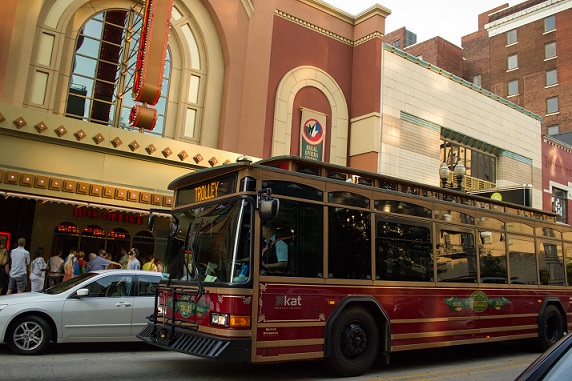 If a magic fairy would allow us three places to own a home in the US then our first choice would always be Arizona.
Our second choice New York City and surprisingly our third choice would now be Tennessee.
We flew from the airport Dallas, Fort Worth into Nashville.  As the country music awards were held there a hotel stay would have been just too pricey for us so we picked up a car and drove to Knoxville.
On our way to Knoxville we grabbed a bite to eat in a small town. While we were waiting for our food, a sweet dear old man listened to our conversation. You simply cannot hide from your accent.
The man was wearing a typical country styled shirt and his jeans were a little bit dusty.  He approached Paul and looked up to him through his glasses which were as thick as a double glazed window. He asked Paul "Where are you two coming from?"  Paul told him where we are from and the man smiled and said in his fine Southern accent "Glad to have you!"
This side of America is what made us fall in love with the USA. It is hard to find in the big cities like Dallas or New York.  You really have to get out into the country to experience that.
When we arrived in Knoxville, we immediately were reminded of another city we had visited before. Knoxville felt similar to Savannah in Georgia. A city with a small town charm filled with a lot of history. Knoxville had the added advantage, to us, of being a lot less touristy.
Whilst the Country Music Awards were held in Nashville, other types of awards were given in Knoxville. As we walked through the market square we saw a winner proudly bearing the "Bark In The Park" badge. The centre of Knoxville was packed with dogs. Seeing all these dogs walking about and running through special set up dog baths was super sweet and sadly it reminded us of the one downside of our nomadic lifestyle which is that we cannot have a dog. Knoxville hosts many festivals throughout the year and it is also a very dog friendly city.
After a little wander around the town, we went to the Downtown Grill & Brewery on 424 South Gay Street. Inside the Brewery was bustling and we developed an instant thirst. We did not reserve a table so we enjoyed our first taste of their beer while we were waiting at the large bar area. With the wooden bar and the hardwood floors, Paul immediately felt at home. It was like an English pub combined with a brewery that is still making its own beer. The food was good and affordable and the best thing about it was that the prices of beer seemed too good to be true. We paid something like 3 USD for a pint*. Perfect for a night out in Knoxville.
Website of Downtown Grill & Brewery
Unlike a lot of other US cities, Knoxville's downtown area was not only good to visit in the day time but also on a weekend evening. It felt as if you were taken to a 1950's movie with the old cinema, people dining outside bars and restaurants on the sidewalk, one-off stores and live music joints.
The next morning, we got up early to continue our exploration of downtown Knoxville. The dogs had gone but the town was still filled with life.
We started out at market square and walked through some of the streets until we reached the Daylight Building located on 501-517 Union Avenue. The Daylight Building was built in 1927 by Benjamin H. Sprankle and it is used today by stores and apparently there are also people living there. Imagine living in it and having those big windows providing magical light.
We walked until Main Street and before the end of our exploration of Knoxville we headed back to our favourite street the main thoroughfare named Gay Street. The street contains a cinema, restaurants, cafés, bars and most of the historic buildings in Knoxville. The street is simply a must see whenever one comes to Knoxville. Hopefully we will come back one day.
*Good To Know: 1 pint in the US is approximately 0.473 litres and 1 pint in the UK is approximately 0.568 litres.
– Click on the picture to see the entire picture –