Article: Visit of Dunedin South Island of New Zealand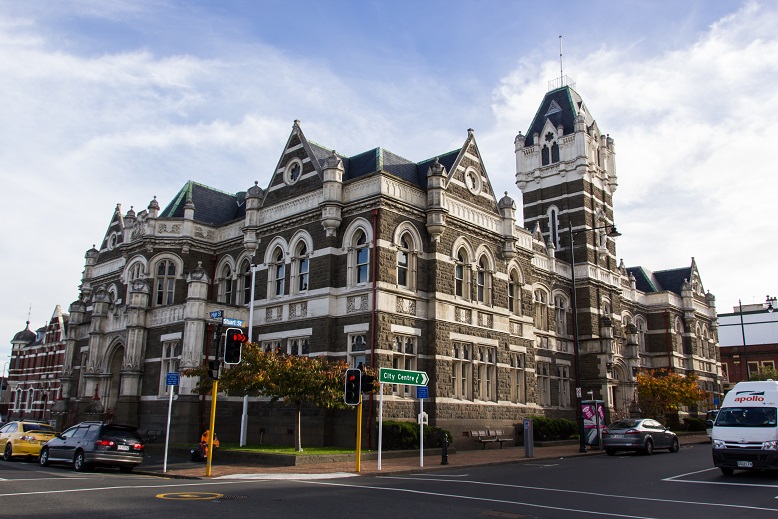 Things to see in Dunedin on the South Island of New Zealand.
The sun started to slowly appear through the autumnal air as we drove by car from Queenstown to Dunedin on the South Island of New Zealand. Dunedin is the Scottish Gaelic name for Edinburgh. Between the 1850ies and 1870ies many Scottish immigrants settled down in New Zealand. In fact, the landscape on our car journeys on the South Island reminded us very much of Scotland. The only difference was that on most days the weather was much better than in Scotland.
As it was early in the day we had a clear run down to Dunedin. There were hardly any cars on the road. The car journey from Queenstown to Dunedin takes approximately 3 to 4 hours.
Larnach Castle
Prior to seeing the city of Dunedin, we stopped at Larnach Castle which is the only fully restored Castle in New Zealand. It is located outside of Dunedin and you can reach Dunedin city centre within a 20 minute car journey from there.
The Castle was built in 1871 by William Larnach who was a business man from Scottish descent and he bought it for his wife Eliza.
In 1967 the Barker family bought the Castle and rescued it from ruin. They spent decades restoring it.
You can really feel the love and passion they put into the building as you enter it.
The rooms are filled with original period furniture and antiques which really give you a detailed insight into how one lived during the era of William Larnach.
We especially admired the verandah on the first floor. Although there were other visitors around, it felt really peaceful and you can let your imagination run wild. Imagine wearing traditional robes, have afternoon tea and enjoy the view of the Estate.
Another good spot is the tower from where you can have a good view over the area on a clear day.
A spooky and somewhat intriguing part of the house was the room with the silk wedding dress. You had to go into the room via a black curtain. Inside were various antiques, a ghost statue hanging from the ceiling and an old wedding dress was laid out underneath a class container. It seemed like a spot for Sleeping Beauty to rest. Apparently the ghost of Mrs Larnach is still haunting the site.
There is also garden around the castle which grants you some good views of Dunedin and the surrounding area. The entrance fee to the castle isn't cheap but well worth it if you would like to step back in time. You can purchase entry tickets for the garden separately from the interior of the castle although we found that the castle was much more spectacular and for us it would not really have been worth it just to see the garden alone.
Details of Larnach Castle
Ticket fees:
Combined ticket Castle, Gardens and Grounds (self-guided)
Adult: NZD 31.00 / Children 5-14: NZD 10.00 / Children 0-4: Free
Family pass (2 adults and up to 4 children): NZD 72.00
Garden & Grounds Only (self-guided)
Adult: NZD 15.00 / Children 5-14: NZD 4.00 / Children 0-4: Free
The printed guides were available in several languages.
Opening hours (open 365 days a year incl. public holidays)
Castle 9am and last admission is 5pm
Garden & Grounds
1 Oct to 31 Mar from 9am  and last admission is 7pm
1Apr to 30 Sep from 9am and last admission is 5pm
Address: Larnach Castle, 145 Camp Rd, Dunedin 9077, New Zealand
Click here to visit the website of Larnach Castle
Viewpoint Soldiers Monument
If you are simply looking for a good viewpoint of the area, then we have another tip for you.
When we drove from Larnach to Dunedin along the Highcliff Road we saw after about 10 minutes a layby on our right hand side and a sign directing uphill to Soldiers Monument.
As we didn't see it mentioned anywhere, we decided to park the car at the layby and to explore the Monument.
The uphill walk didn't take long and soon our curiosity was rewarded with 360 degree views of the area. It is a perfect viewpoint on a clear day.
Approximate GPS coordinates of the layby/sign: -45.885369, 170.565539
Dunedin Railway Station and City Centre
Within another 10 minute car journey, we reached Dunedin and parked near the railway station.
The Railway Station was built between 1873 and 1906 and designed by George Troupe. It is a large and long stretching building that features a distinctive clock tower. When you walk into the historic railway station the silence makes it hard to imagine that this station once used to be the busiest in New Zealand.
No trains were in sight, just a handful of New Zealanders and tourists were around. The booking hall inside the station is an architectural gem. Its highlights are the floor which is covered with mosaic tiles and the windows. The station is free to enter and you can go to the upper level from where you can have the best angle to admire the mosaic floor and the windows. Aside from that, one can find up there a small art gallery which is also free to enter and the Sports Hall of Fame of New Zealand where one has to pay a small entrance fee.
After the train station we explored the city centre which is easily accessible by foot. When you head north along Stuart Street then you will soon reach the Octagon which is a prominent triangular square.
At the square one can see Dunedin Town Hall, St Paul's Cathedral and the statue of Sir Robert Burns who was a Scottish Poet. If you are ever in Central Park in New York City, then you can see an exact replica of this statue there.
If you look closer around the statue you can find various plaques containing written words of local and international writers who have written about Dunedin. Indeed Dunedin is a UNESCO City of Literature.
Compared to Queenstown, Dunedin felt more of a working town. There were substantially less tourists around and more locals.
You can easily reach various other sights from the Octagon.
Additional points of interest are:
We didn't have enough time to do a tour but apparently this is more a museum than a chocolate factory tour. In any case, we can recommend you visit the separate chocolate shop which is adjacent to the factory, if chocolate is your thing!
This popular museum showcases the history, culture and architecture of Otago Settlers in an interactive way.
Opening Hours
10am – 5pm
Daily (except Christmas Day)
ADMISSION FREE (Charges may apply to special exhibitions)
Visitors can see more than 6,800 plant species in this beautiful and serene space. It is open all year around from dawn till dusk and the entrance is free.
As we visited in autumn, we didn't have much daylight so we explored the city centre a bit more and then moved on to our final stop in Dunedin which was Tunnel Beach.
Tunnel Beach
The beach is located about 7.5km southwest of Dunedin city centre and on our drive to the parking lot near the walkway to the beach we passed by a residential neighborhood from where you can see the other castle of New Zealand. It is Cargill Castle which was completed in 1877 and built for Edward Cargill. Nowadays the castle is a ruin and you can only see it from the residential neighborhood.
From there it was only a short drive to the beginning of the walkway to Tunnel Beach. The walkway is laid out on private land and the round trip takes about an hour to complete.
The downhill walk along the coastal cliff is beautiful although we would advise you to visit it for sunrise which seems to be even better.
At the end of the path you will reach a giant rock in which Edward Cargill back in the day cut a short tunnel to Tunnel Beach.
You just have to walk along the rock and look to your left and you will soon see the small hole with steps leading down to the secluded gem. Back in the day, it must have been very special for the Cargill Family to have their own private beach.
Note: The walkway is quite steep so you just have to bear that in mind when you walk back up). It is closed for lambing from 1st of Aug until 31 Oct. You can also check latest alerts about the track on this website from the local department of conservation.
Tunnel Beach was the perfect final of our day out to Dunedin. We were back in Queenstown quite late but the roads were once again clear for us.
Ideally you could spent at least two to three days in the area of Dunedin.
GPS coordinates -45.918385, 170.452566 and address of the parking area near the walkway: 26 Tunnel Beach Rd, Blackhead, Dunedin 9076, New Zealand