Article: 10 Things To Do In Abu Dhabi – Part 1/2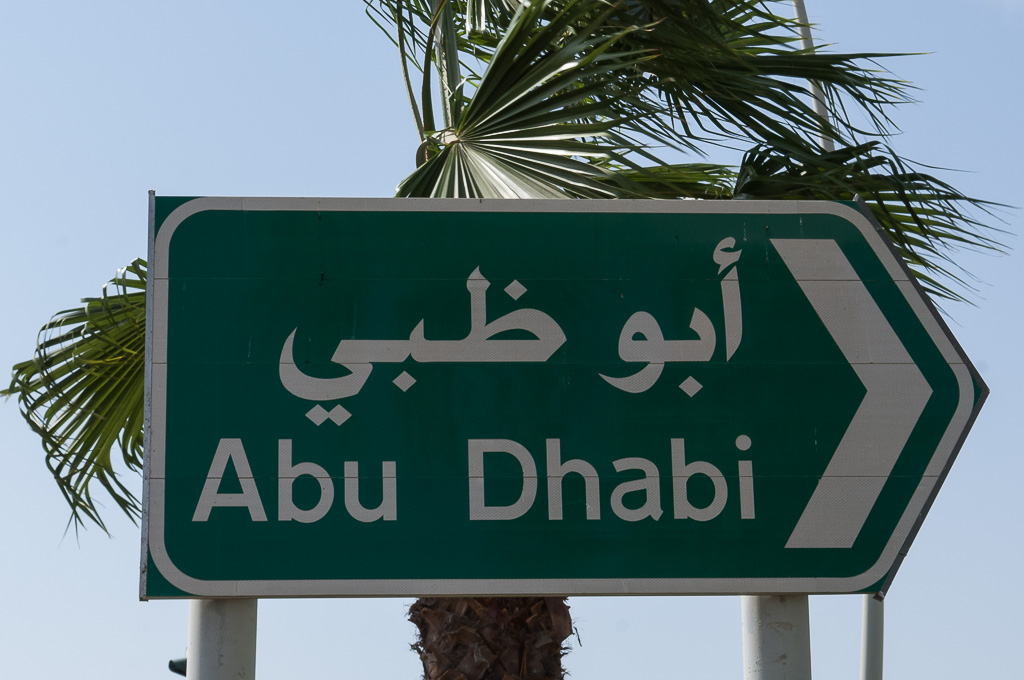 An escape to the desert from the freezing European winter was exactly what we needed. We had just spent some time in Seville and a few days in the bitter cold Madrid. The contrast between those old European cities and Abu Dhabi was quite mind blowing. One day you drive past slums in Seville and feel sorry that the beautiful old sights are in decay and the next day you are looking at modern skyscrapers, religious sites that are clean and decorated with precious metals.  It's as if you wished from a genie in a bottle to take you to a bling bling oasis in the desert.
At the beginning we stayed at two hotels on Yas Island, which is a man-made island outside of Abu Dhabi.
It is not far from the airport and only a half hour drive to Abu Dhabi or 50 minutes to Dubai. We stayed there so we could easily walk to the Yas Marina Racing Circuit during the Formula 1 Grand Prix.
After the Grand Prix, we moved to the centre of Abu Dhabi and stayed at the Sofitel Hotel. The hotel and the staff were excellent. Link to Accor Hotels (Sofitel is part of this group).
When you are in the Emirates, it is hard to imagine that this land was not long ago just a desert occupied by nomads like us.
The Emirates are constantly evolving and the locals are usually trying to please visitors with warmth and hospitality.
We just scratched the surface and are already able to share with you the following
10 Things To Do In Abu Dhabi
-Part One- (opening hours and ticket prices last checked January 2015)
1. Sheikh Zayed Grand Mosque
The landmark is located about halfway between Abu Dhabi's city centre and Yas Island.
You can see the iconic white building from far away. It one of the biggest mosques in the world and it can accommodate about 40,000 worshippers. The architecture of the mosque is breathtaking. On each of its four corners are minarets (approx 107metres high) which are topped with 24 carat gold. There is marble everywhere. As you enter the main courtyard (the Sahan) have a look on the ground, there are beautiful flower patterns in the marble stones.
Inside the main prayer hall is one of the world's largest crystal chandeliers. It measures 10 meters in diameter and weighs about 9 tones. The main entrance doors are decorated with glass mosaic pieces that were hand-blown in Murano, Italy.
We arrived at the mosque about 10.30am and took a free guided tour at 11am. Our tour guide was a very friendly and enthusiastic Emirati lady, who took us around the main areas of the mosque. The tour path was separated from the main visitor's path which was excellent so other people did not get in the way. The complimentary tour was very good and you should really try to experience it.
Visit at day or at night?
Both times of the day are beautiful. During the day the sun magically reflects on the stones and at nighttime the Lunar Lighting, a unique system that reflects the phases of the moon, adds another special touch.
The entrance to the mosque is free.
Opening hours:
Sat to Thu from 9am to 10 pm (last entry 9.30 pm)
Fri from 4.30pm to 11pm
Open daily except first day of Eid Al Fitr and Eid Al Adha holidays
(visiting hours may be different during Ramadan)
Details of complimentary tours in English and Arabic language
Sun to Thu 10am, 11am and 5pm
Sat 10am, 11am, 2pm, 5pm and 7 pm
Fri 5pm and 7pm
There are also audio guides available in 11 different languages.
Follow this link to visit the official website of the Sheikh Zayed Grand Mosque Centre
2. Ferrari World Abu Dhabi
The Ferrari inspired theme park is located on Yas Island. It is actually the largest indoor theme park in the world.
If you look at the building from the air then it looks more like a Ferrari space ship rather than a theme park. It is meant to be the biggest Ferrari Logo in the world.
The highlight for the visitors is Formula Rossa, which currently is the fastest roller coaster in the world with a scary top speed of 240km/h. You can really experience the G-forces that the Ferrari drivers feel during an F1 race.
Aside from that, the theme park houses more than 20 Ferrari inspired rides and attractions which offer something for various age groups and for different bravery levels.
Like the Emirates, the theme park is constantly evolving. If something does not work out or prove popular, like the drop tower that which was located in the middle of the park, then they replace it with something that does. Currently they are also building a replica of an Italian street.
There are also several restaurants that serve local, international and authentic Italian dishes. One of the restaurants is called Mamma Rosella which is named after the real Mamma Rosella from Italy who runs a family owned restaurant in Maranello in Italy. The Ferrari drivers and team in Italy regularly dine at her restaurant.
Some of the cars in the Galeria, which displays a variety of Ferrari road and race cars, were good to see and an obvious attraction. However, we enjoyed some of the less prominent exhibits such as the recreation of Enzo Ferrari's first garage which is located inside one of the gift shops. If you are visiting the theme park, look out for this.
You can actually have a closer insight into the park in our video here.
Follow this link to visit the website of Ferrari World.
Standard Opening hours (7 days a week): 11am to 8pm
Entrance fees (charged by height – last checked Jan 2017)
Visitors of 1.30m (about 51.18 inches) and above: AED 275
Junior below 1.30m (about 51.18 inches): AED 230
*Yas Parks Pass: Ferrari World Abu Dhabi & Yas Waterworld Combined Tickets
Visitors of 1.30m and above: AED 450
Junior below 1.30m: AED 380
Yas Express Complimentary Shuttle Service
There is a free shuttle service on Yas Island, operating daily (Blue route from 9am to 9pm and Red route from 9am to 2am). It connects the major attractions,
Click here to see the website of Yas Island (you can find the schedule and details of the bus in the "Getting There" and then in the "Transport" section).
3. Yas Waterworld
The award winning Yas Waterworld is a very popular attraction on Yas Island. It offers something for everyone. Amongst others, there are 40 thrill-a-minute rides, various slides, a giant wave pool and even a big playground that is like a fortress.
It is worth arriving early when the queues of the rides are shorter. Alternatively you can use the fast track option (available with a premium ticket which is more expensive).
If it gets busier or you have had enough adrenaline rush from some of the hard core rides, then the lazy river is a nice option to relax.
Food and drink is not allowed and the bags are being searched (except for special food for babies/children).
Towels are not provided for free. You can take your own towels, rent a towel for AED 30.00 a day or purchase one at one of the shops inside the park.
Lockers are available for rent in various sizes starting from AED 40.00.
On arrival you will receive an entry wristband which you need to keep for your entire stay. You may even be able to pre-load it with money so you don't have to have cash on you all the time. Important! Before you pre-load it, ask them whether they can refund any remaining balance at the end of your visit because this may not be possible.
Follow this link to visit the official website of Yas Waterworld
Opening hours (double check the website beforehand): Generally 7 days a week from 10am to 6pm
Standard Entrance fees:
General visitors of 1.10m (about 43.30 inches) and above: AED 250
Junior below 1.10m: AED 210
*Ferrari World Abu Dhabi & Yas Waterworld Combined tickets see above.
4. Heritage Village
If you want to see a traditional oasis village without having to travel into the desert, then this is the place for you. This reconstructed village showcases traditional craftsmanship like a weaver, carpenter or leather producer. Sometimes they allow visitors to participate. You can also purchase their products. Whilst the entrance is free you just have to be aware that the workers sometimes expect a tip.
The heritage village is run by the Emirates Heritage Club. These old traditional styled buildings are a good contrast to the modern architecture of the city. Although there weren't any guides or much background information, I really enjoyed the visit. It is more a place to experience and to have a leisurely wander around. Plus after all, it was free.
I visited the Heritage Village two days prior to the UAE National Day (the National Day is the 2nd of December). If you are there during that time, you should definitely visit the club.
They have competitions going on and some other events. It was a really fun atmosphere.
My favorite part was when I stood on stage with a local girl. We both were able to win something.
We picked an envelope which would announce our prizes.  I've picked a shopping voucher and she had won an I-Pad. Although I really hoped to win an I pad for Paul, I wasn't at all disappointed because the sight of celebration of her family was wonderful. It was as if she had won the lottery. You could make an Apple ad out of this. This sight will stay with me forever and the I-Pad would probably just have been a nuisance together with all our other electronics.
After the competition, I left the Heritage club because it was already dark. On my way out I quickly stopped to watch some local men presenting a traditional dance which was just the icing on the cake.
The Heritage Village is located near the Abu Dhabi Sailing & Yacht Club and about a 15 minute walk from Marina Mall.
Opening hours:
Saturday to Thursday from 9am to 5pm
Friday from 3.30pm to 9pm
Location:
15 Minute walk from Marina Mall
At the end of the Corniche Area which is called the Breakwater – after the Abu Dhabi Sailing & Yacht Club
Tip: Go there in the afternoon as there are more stalls open.
Be aware! The village is outdoors and so it can probably get very hot during the summer months.
5. Camel Race
The races are held between the months of Oct and Feb, usually early on Friday and Saturday mornings and on public holidays. There are several camel race tracks in Abu Dhabi, like the Al Wathba Camel Race Track which is about 45km east of Abu Dhabi and another one is near Al Ain, which is the second largest city of the Emirate Abu Dhabi.
The entrance to the quirky races is free. They start at 06.30am and finish at around 9am.
You can find a link to the camel racing schedule on the website of Visit Abu Dhabi here
Follow this link to see the second part.