Article: The Birmingham Frankfurt Christmas Market Reviewed By A German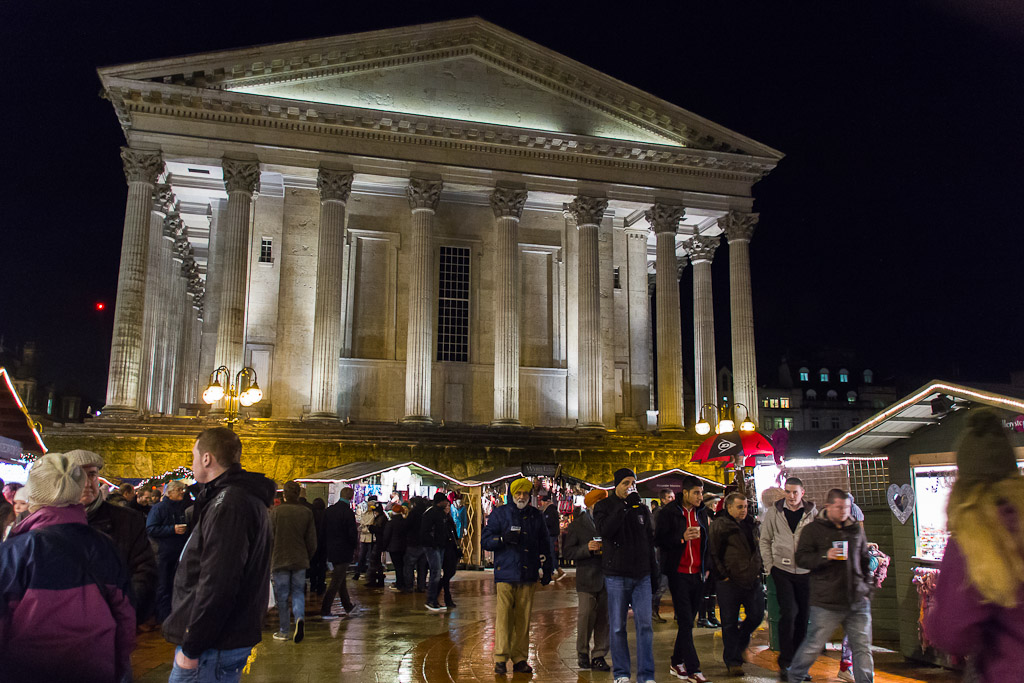 The sight of twinkling Christmas Lights and the warm feeling on your hands of a cup of hot chocolate or mulled wine whilst catching up with your friends and family is something special that makes you return every year to a Christmas Market.
It is a highlight for every German in the cold winter time and I have been to quite a few of them. My list of visited markets does not only include small local ones but also the big markets in Munich, Frankfurt am Main and an internationally lesser known in Erfurt (a real gem located in the heart of Germany here is the link to the Christmas market in Erfurt).
Paul hadn't been to Birmingham for many years and it was my first visit last December and so we were curious as to see what the *Brummies' version was like.
Birmingham has been twinned with Frankfurt am Main since 1966 and with the support of Frankfurt tourism the first Birmingham Frankfurt Christmas Market was established in 1997 and it has been held every year since 2001.
Our first stop was along New Street. The light decoration along the street was beautiful and all the way from New Street up to Victoria Square there were numerous stalls selling mostly German produce (toys, food, decorations etc.).
It was really nicely set up and very authentic!
You really get the German Christmas Market atmosphere there.
Have a look for yourself in our video here.
The only thing I disliked was that one of the stalls sold German Christmas Stollen from a German supermarket chain. It might taste ok but I cannot imagine it being as good as the traditional "Dresdner Christstollen".
Following New Street, we approached Victoria Square which was beautifully lit up. You definitely have to see it at night time.
At the top of the stairs in front of the Council House were a carousel, some food stalls and not to forget the drink stalls. Don't be surprised if you have to pay a deposit for your drinks glass or mug.
The mugs are a traditional souvenir and if you like yours, you can forfeit the deposit and take it home with you.
There was also a small stage with musicians and if you head towards Chamberlain Square you can explore the Christmas Craft Fair where Birmingham's traders sell hand-crafted goods.
The B'ham Christmas Market starts on the 13th of November 2014 and ends on the 22nd of December 2014.
Christmas Craft Fair of Birmingham's Traders
The Crafts Fair starts on the 15th of November and also ends on 22nd of December 2014. You can buy a variety of goods there from wooden toys, to Christmas cards and decorations. It is a good place to buy a different kind of Christmas present (not imported from China). This market extends further to Centenary Square. You can reach the Centenary Square by going up the staircase at Chamberlain Square and by walking through the Paradise Forum. If you keep walking straight on after the Paradise Forum you will reach the square. At the square is another highlight of Birmingham.
Follow this link to visit the website of Visit Birmingham
The Library of Birmingham
It was designed by the Dutch architect Francine Houben and it reminded me a bit of bees wax. Others say it looks like giant stacked up birthday presents. Either way, it is a really nice library and if you are there in the day time, you have to visit the viewing areas (the Secret Garden on the 7th floor and the roof) which allow you to enjoy some good views over the city.
The Gallery on the third floor is also worth seeing because it acts as an exhibition space. The exhibits change on a regular basis.
The library is open 7 days a week.
Follow this link to visit the website of the Library of Birmingham
Birmingham Museum and Art Gallery
If you have some more time to spare during the day and you are interested in art and want learn more about Birmingham, then you can also visit the Birmingham Museum and Art Gallery located at Chamberlain Square. It is not too big, so it won't take you long to visit and is a pleasant add on to an itinerary. The entrance is free and it is open Mon to Thu 10am till 5pm, Fri 10.30am till 5pm and Sat & Sun from 10am till 5pm (closed on Christmas Eve, Christmas Day, Boxing Day and limited ours on New Year's Day).
Click here to visit the website of Birmingham Museum and Art Gallery
Another Highlight of Birmingham – The Canal Area (Waterfront Walk)
The canal area sort of behind the Mailbox Shopping Centre is a good place to eat. We had a nice meal at the Kinnaree Thai Restaurant. It was affordable and had a good ambience. The canal area is very picturesque and definitely worth seeing.
Where to stay in Birmingham
Novotel Hotel on Broad Street
We stayed at this hotel twice this year and it was our favourite Birmingham mid-range hotel. Why? Firstly and most importantly the staff at the reception were good. You would not believe how many hotels get this part wrong!
We had a business room which was spacious and the gym was good. If you have a lot of luggage, make sure that you unload your car first prior to driving down the parking area. There was an elevator but you had to get someone to take you upstairs.
Follow this link to visit the website of the Novotel Hotel
Holiday Inn Express Snow Hill
Last year in December we stayed at the Holiday Inn Express Snow Hill which according to the Daily Mail, has been ranked as Britain's Best Hotel for Chinese tourists. It looked similar to most Holiday Inn Express Hotels we've been to. However, we do remember it as being clean and the staff were very friendly.
Click here to visit the website of Holiday Inn Express
Radisson Blu Hotel in Birmingham
We had a business room on a higher floor. The room was ok, the location and the view were great but what we find the most important factor was sadly missing (we like Radisson hotels and really looked forward to staying there). The quality of staff throughout the hotel was very variable and definitely needed some improvement. Some were fine whilst others were somewhat rough and lacking in the basics. The equipment in the gym was good but overall it was too small, especially when it got a bit busier around 5.30pm+.
Safety in Birmingham
Like everywhere be aware of your surroundings. In Birmingham one street can suddenly change and become a bit dodgier. You can feel that the atmosphere is changing. So just watch out!
*Brummie is the nickname for people from Birmingham. Funny fact "Brummi" in German means truck and Paul had to laugh quite a bit when he first saw the sign Brummis rechts raus which means exit right.