How To Find The Brooklyn Bridge Walkway? Bridge Details & Photos!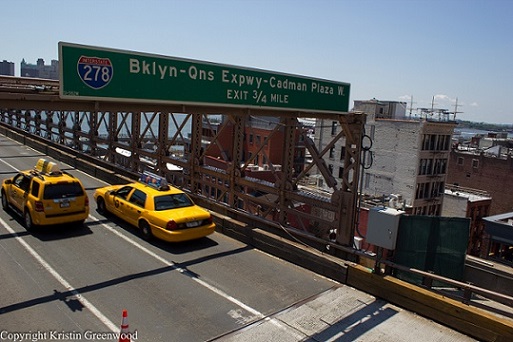 The National Historic Landmark was opened in 1883 and designed by the German-born John Augustus Roebling (Johann August Röbling).
The bridge connects the two boroughs Manhattan and Brooklyn over the East River*. At the time of opening Brooklyn was an independent city because it only merged with New York City in 1898. Every day thousands of people cross the bridge via the walkway/bicycle lane or vehicles. From the bridge you can have some great views over Manhattan's and Brooklyn's skyline. The top level is solely for the use of pedestrians and cyclists. The lower level has two carriageways for vehicles. You can access the Brooklyn Bridge Walkway from Manhattan or Brooklyn.
How to get to Brooklyn Bridge from Manhattan:
In Manhattan the promenade walkway starts at Centre Street shortly after the intersection with Chambers Street. You can even take the subway to Chambers Street or Brooklyn Bridge City Hall. The Manhattan side is fairly easy to find.
How to find the Brooklyn Bridge from Brooklyn:
From Brooklyn you can start the walk at the stairway at Cadman Plaza East. To find it with the subway is a little bit more complicated than from the Manhattan side. However, we just followed the other tourists.
If there are no tourists around, here are the directions from High Street station to the Brooklyn Bridge:
When you arrive at the High Street subway station take the exit marked "Cadman Plaza West / Cranberry & Henry Street". After the staircase turn left and continue walking until Middagh Street. At Middagh Street turn right at the traffic light and head towards the Cadman Plaza Park. Enter the park and soon you should see a little sign on your left indicating the Brooklyn Bridge Walkway. Continue walking along the path (don't go right) sort of round and soon you will see a passageway where you should see another small sign (at the top) for the Brooklyn Bridge walkway. Continue and just before the passageway ends you will see on your left the staircase to the Brooklyn Bridge walkway. Before you enter the staircase have a look on your right. There are some information signs about the Brooklyn Bridge.
*Good To Know: East River is not actually a river. It is a tidal strait. If you look on a map then you can see that water way goes to the ocean.
Click here to see our video of our walk across Brooklyn Bridge
– Click on the picture to see the entire picture –