Our First Days on the road: In The English Countryside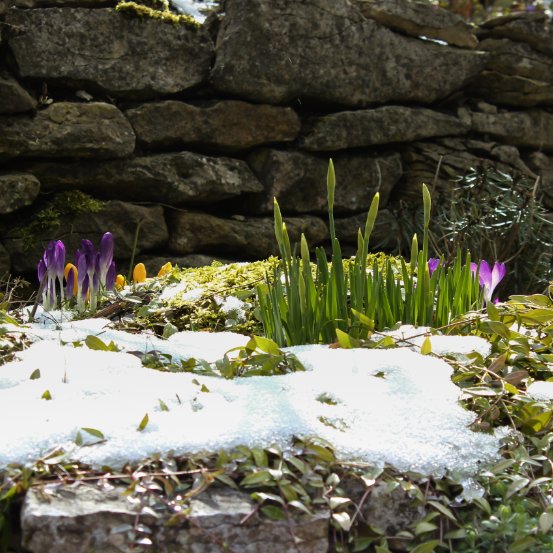 "I thought we left the cold in Switzerland!"
Our journey started on 27 March 2013 with an evening flight from Zurich to London Heathrow.
We had previously decided to have a little stop-over in England, to spend the Easter break with family, before our three-week stay in Portugal. After a cold and rather cloudy winter in Switzerland, we hoped for a rise in temperatures and somewhat more spring-like weather in England.
We were wrong. The English weather is known to be tricky but we did not expect it to be colder at Easter than it was when we were there at Christmas. Luckily our accommodation was modern and very well insulated.
After a few days, the temperatures rose a little bit and we were able to have some more enjoyable days out in the English countryside. Enjoyable means that I (Kristin) wore many layers of clothes and some thermal tights. I felt like a granny underneath all these layers.
Our first visit in the countryside was a little walk around a small Cotswolds village named Snowshill. Initially we intended to make use of our National Trust membership and to visit the Snowshill Manor http://www.nationaltrust.org.uk/snowshill-manor/, which is a National Trust Property, but unfortunately the entrance was awkward to get to, we could hear people queuing to get in, and so we decided that a walk around the village would suffice for now. If you are a member of the National Trust then you get special discounts and more importantly you have free entry and parking at over 300 historic houses, gardens, countryside and coastline spaces in the UK. Great membership to have if you are visiting the UK on a regular basis and you are interested in visiting historic houses, stately homes and gardens.
The next day, we were able to make use of our membership advantages, as we visited Buscot Park http://www.nationaltrust.org.uk/buscot-park/. Buscot Park is privately owned by Lord Faringdon http://www.buscot-park.com/. It is a beautiful property to visit. The grounds are very spacious and very well cared for and the house showcases the private art collection of Lord Faringdon's family. It is probably even better to visit once all the flowers are out and they can reveal the beauty of the well set up gardens. After our walk, we visited the tea house were we enjoyed tea and cake. We were quite pleasantly surprised about the prices for tea and cake there .A full pot of tea for three (with extra water to refill) and three cakes for approximately 8 GBP. Plus everything tasted very good! What incredible value.
Two days later we explored the Sherborne Park Estate http://www.nationaltrust.org.uk/lodge-park-and-sherborne-estate/ where we went on a big walk through the woods, past farmlands and the Sherborne Park Estate. Worth a visit if you want to enjoy the countryside and exercise at the same time.
After our last stressful days in Switzerland, the English countryside was a good way to wind down a little. However we were certainly ready for some sunshine and the smell of sea air in Portugal.