Article: 10 Free Things to do in Melbourne in Australia – Part One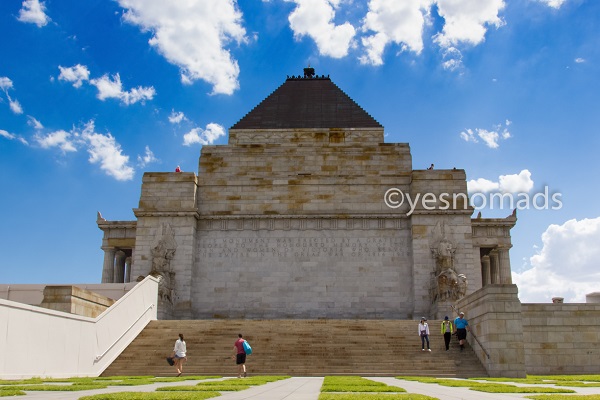 Melbourne in Australia is one of our favourite cities to visit. We have been there twice and each time we discovered something new.
It is Australia's second largest city and the creative hub of the country. According to Economist Intelligence Unit it is also the World's most livable city 2016. In fact, it gained this score for the sixth year in a row.
Here is the first part of our list of 10 free things to do in Melbourne:
The second part with points 6 to 10 follows tomorrow. You will be able to read it here.
1. Royal Botanic Gardens
The Royal Botanic Gardens are a wonderful sight to visit. It is very peaceful there and you can see a variety of plants and wildlife. It is a great place to go for a walk and to escape the busy streets of Melbourne.
Opening hours:
7.30am until sunset every day of the year
Address: Birdwood Ave, South Yarra VIC 3141, Australia
Website of the Royal Botanic Gardens Victoria
2. Shrine of Remembrance
Right beside the Royal Botanic Gardens, you can find the Shrine of Remembrance. It was built in 1934 as a memorial for the Victorians killed in WWI. We had a tour of the memorial and our tour guide was very good. On 25th of April, which is Anzac Day, thousands of people attend the annual dawn service there.
Entrance is free (you can donate if you wish to).
Opening hours
Daily 10am until 5pm (last entry to galleries and balcony is 4.30pm)
Closed Good Friday and Christmas day.
Address: Birdwood Ave, Melbourne VIC 3001, Australia
Website of Shrine of Remembrance
3. Queen Victoria Market
The Queen Victoria Market offers everything from fresh food to a restaurant zone.
It is divided into a Fresh Produce section and Specialty Shopping. In the summer (from Nov until Feb) there is a lively night market with food stalls, bars and music on Wednesday evenings.
Opening hours (NB the hours for the specialty shopping section are generally less during the open days!)
Mon and Wed Closed
Tue and Thu 6am until 2pm / Fri 6am until 5pm / Sat 6am until 3pm / Sun 9am until 4pm
Address: 513 Elizabeth St, Melbourne VIC 3000, Australia
Website of Summer Night Market
4. State Library of Victoria
Not only is it a full working library, it is also an architectural gem. One highlight is the dome reading room. There are also historic exhibits and artworks. You can spend hours exploring this gem. They also provide free wi-fi in the public areas.
Information about the visit:
Food is not allowed inside the library and bottled water only in the main public areas.
Large bags or cumbersome items are not allowed inside the library, however, they do provide lockers for a small fee.
Opening hours main public areas:
Mon to Thu 10 am until 9pm / Fri to Sun 10am until 6pm
Address: 328 Swanston St, Melbourne VIC 3000, Australia
Website of State Library of Victoria
5. Yarra River Walk in Melbourne
The Yarra River banks in Melbourne are a great place for a river walk.
You can find walking and cycling paths there plus Daniel Ricciardo 😉 .
The river promenade offers a variety of cafes and restaurants to take a break and enjoy local delights.
Important for cyclists! You need to wear a helmet in Australia. If you fail to do so and the police catch you then you can expect to pay a hefty fine.