Article: Visit J Davis Heritage Airpark & Blackbird Airpark in Palmdale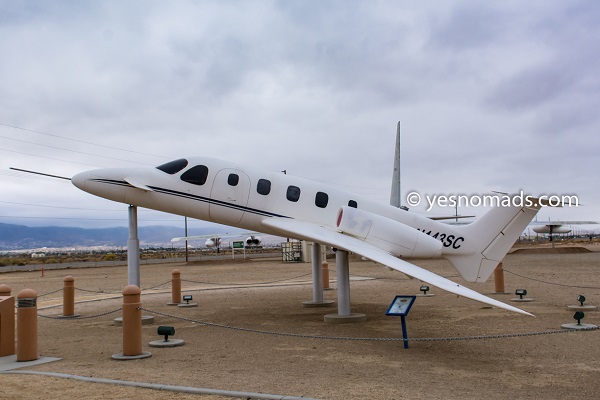 Article: Visit to the Joe Davis Heritage Airpark and Blackbird Airpark in Palmdale California
About one hour's drive from Los Angeles, aviation aficionados can admire a great selection of aircraft in Palmdale California.
Visitors can see a wide variety of aircraft in two airparks which are set right next to each other.
The first airpark is called Joe Davis Heritage Airpark and it is centered around displays of aircraft that portray the aerospace heritage of the USA.
In February 2008 the airpark was rededicated in Mr Joe Davis's name to honor him and his great service to the country and community. Joe was Air Force Plant 42′ third Commander and he retired from the Air Force as a Lieutenant Colonel in 1973. Thereafter he worked (among other roles within the community) in community relations for Rockwell and Boeing on the B-1 Bomber and Space Shuttle programs and he served as a Palmdale City Councilman.
Among others you can get up close to a Boeing 747, you can see a Model of 143-Triumph or other military aircraft such as the Republic F-105 Thunderchief from 1964 which was a supersonic fighter-bomber.
The other airpark is located right next to it and it is called the Clarence L. "Kelly" Johnson Blackbird Airpark.
Kelly Johnson was an American aerospace engineer and he contributed to a series of important aircraft designs. One of them was the SR-71A Blackbird which you can see at the airpark.
There are also a variety of other exhibits such as the once ultra-secret Lockheed D-21 Drone and the Lockheed A-12.
The entrance to both Airparks was free (you can make donations there if you wish to) and there were plenty of parking spaces available.
Generally the opening hours of both parks are:
Fri to Sun: 11am until 4pm
Mon to Thu: Closed
Both airparks are a great attraction to visit especially if you are interested in aircraft and military airplanes.
Link to the page about Joe Davis Heritage Airpark on the website of the City of Palmdale
Link re. Blackbird Airpark visit – managed by the Flight Test Historical Foundation