Article: Czech Money Matters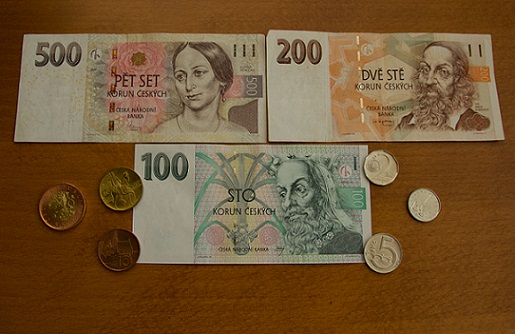 An interesting fact about the Czech Republic is that it has not adopted the Euro as its currency although it is part of the EU since 2004.
Apparently it was all set to join the currency zone a few years ago but put it on hold for now. Perhaps a wise decision 😉
Anyway, when we were out and about we mainly paid in cash so if you were to travel to the Czech Republic, make sure you change some money. Some touristy places might accept Euros but the rates are not so good. Additionally, there are a few things to know before you exchange the money there.
The best way to obtain cash is by simply withdrawing money from an ATM or by exchanging it at a bank. The banks usually offer better exchange rates than the bureau de change or hotels. Some exchange offices might even advertise that there is no commission but somehow they add some hidden fees. In any case it is always good to check the exchange rates before you head off to exchange money.
More importantly, never exchange money in the street or from some stranger. There are a few crooks around which will give you a really bad exchange rate or they might even give you Hungarian Forint or Russian Rubles instead of Czech Koruna (CZK). These currencies appear similar but their value is substantially less. Here you can see some of the notes and all of the coins of the Czech currency.
The Czech currency is divided as follows:
1 Czech Koruna = 100 Hellers
Types of coins: 1,2, 5, 10, 20 and 50 Korunas
Types of banknotes: 100, 200, 500, 1000, 2000 and 5000 Korunas
At time of writing (late November 2013)
100 CZK equals
3.66 Euros or
4.97 USD or
3.06 Pounds Sterling or
30 Chinese Yuan or
147 Taiwan Dollar.